Ghana's tax revenue collection is mobilised by the Ghana Revenue Authority's (GRA) domestic division and processed through one of GCNet's products called Total Revenue Integrated Processing System ( TRIPS).
GCNet is at the forefront of Ghana's economy by deploying systems which will widen the tax net to improve revenue mobilization for national development.
Trips™️
The Total Revenue Integrated Processing System (TRIPS) a software for tax administration under the e-Government project by the Ministry of Communication. TRIPS, the first in West Africa, was designed and deployed in 2011 by GCNet as a business automation process system that seeks to streamline and bring transparency in the business operations of the GRA Domestic Tax Revenue Division DTRD.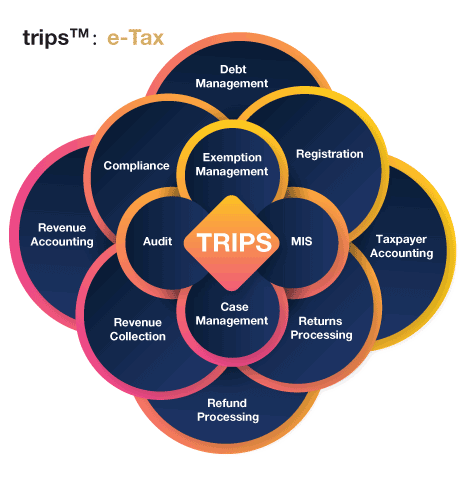 The deployment of tripsTM is part of the bigger e-tax solution package developed and deployed concurrently for the Ghana Revenue Authority by the Ghana Community Network Services Limited (GCNet) with a self-service portal that provides online services to taxpayers. 
The system supports a full range of tax Administration functions including: Registration, Returns Processing, Automated Compliance, Collections, Taxpayer Accounting, Revenue Accounting, Refunds, Risk Management, Case Management, Audit, Objections and Appeals.
Today, all 69 Tax Offices of the Domestic Tax Revenue Division (DTRD) of the Ghana Revenue Authority (GRA) are now hooked and live on the Total Revenue Integrated Processing System (tripsTM). The system exchanges real time data with a number of other Government Systems including: the National Identification Authority, Driver Vehicle Licencing Authority (DVLA) and for the automated validation of Individual's identity documents; Registrar-General's Department for the automated creation and sharing of Tax Identification Numbers; Customs for the identification of Importers and Exports; and Controller and Accountant-General's Department for Revenue Reporting.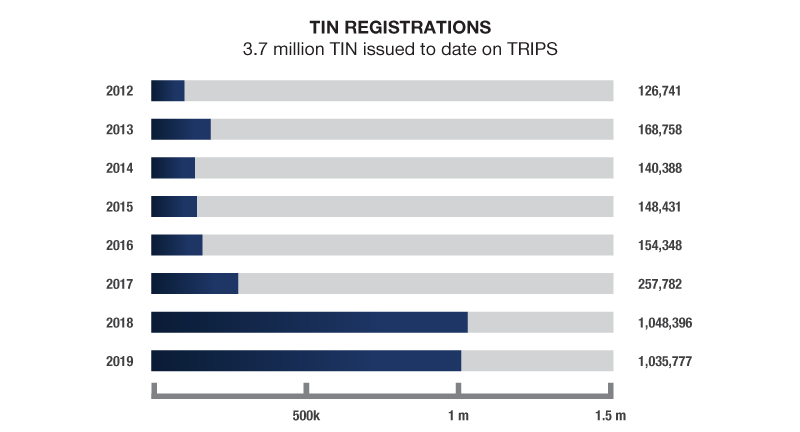 Over the past five years, there has been a sustained increase in the domestic tax collection processed through (trips TM), from GHC 3 billion generated in 2014,GH₵ 9 billion in 2015 to almost GH₵ 12 billion in 2016.
Since the introduction of tripsTM for domestic tax collection, a total of GH₵ 55 billion has been collected. 
About our partner GRA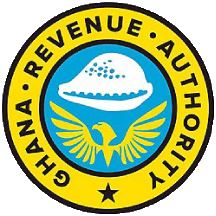 The Ghana  Revenue Authority (GRA) was formed in December 2009 out of the then 3 tax revenue agencies, the Customs, Excise and Preventive Service (CEPS), the Internal Revenue Service (IRS), the Value Added Tax Service (VATS) and the Revenue Agencies Governing Board (RAGB) Secretariat. The merged entities were the result of the Ghana Revenue Authority Act 2009, Act 791 to replace the revenue agencies in the administration of taxes and customs duties in the country. 
Our team is here to help. Do you have a question? Please contact us now.