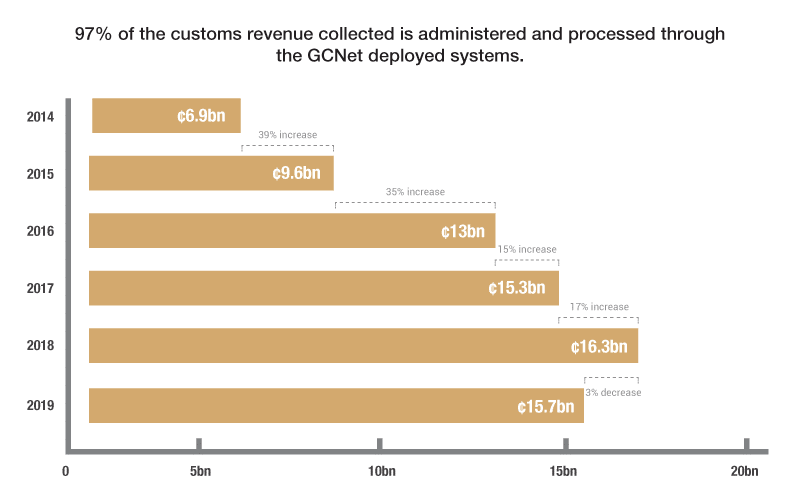 Our Customs product enables quick processing of all customs clearance documentation on-line and facilitates clearance of goods through the ports . The main goal of GCNet's customs services is to increase speed and transparency in the clearing process and to ensure that the right revenue accruing to the government of Ghana is realized.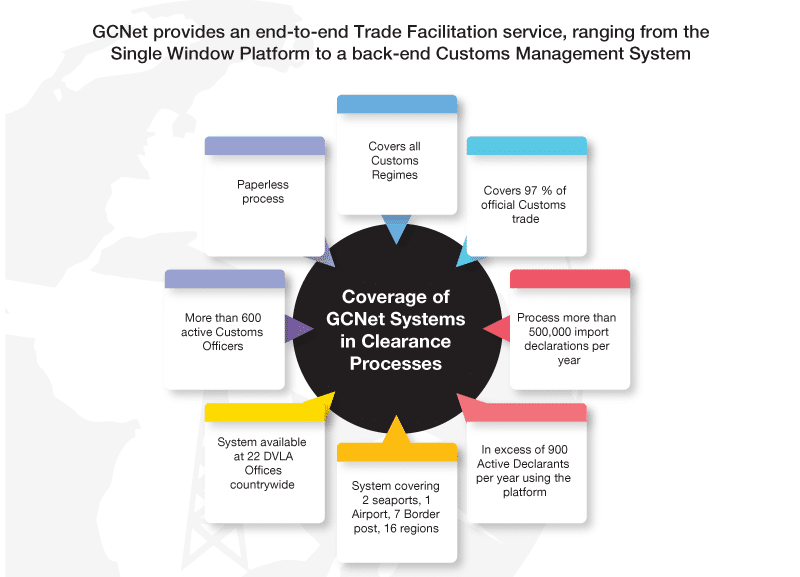 Learn more about our services:
Ghana Single Window is a secure trade platform that facilitates the exchange of information between the Government of Ghana and the logistics community. Ghana Single Window was launched in 2002 and has been progressively updated and extended in line with international best practices. The platform reduces the need for data to be entered multiple times – instead it can be exchanged and re-used electronically, achieving faster, more accurate results and improving the ease of compliance with Government of Ghana requirements.
Ghana Customs Management System
The Ghana Customs Management System (GCMS) deployed by GCNet for the GRA (Customs Division), forms the core part of the single window platform, customized to meet all the operational processes of GRA (Customs Division).
The Trade Facilitation Platform (TFP) is a comprehensive web-based suite to further enhance the Single Window offering.
TFP ensures maximum synergy between Customs, Logistics Partners and Other Government Agencies.
GCNet introduced the electronic tracking system as part of its end to end system to monitor transit cargo from the port of entry to the exit border. The electronic transit also known as i-Transit is one of the products of the Single Window Platform.
Bringing transparency & Revenue assurance to custom valuation. To complement this, GCNet has activated its e-valuator system, a real-time valuation system during declaration processing in the customs system for valuation assurance and proactive alerts to Customs officers for spot on decision for risk management in the early stage of the supply chain.
Data Warehousing & Data Analytics
Over the years, GCNet has continually supported Ghana Revenue Authority (GRA) in its risk management and data analytics through its data warehousing services. We have leveraged on the power of big data through data analytics..
We leverage on various services and infrastructure used by the GRA, MDAs and other relevant organizations for Business Intelligence (BI) services such as the GCNet Reporting Tool extracts information from the single lodgment of data and vessel sailings, strengthens the availability, accessibility and accuracy of data that facilitates policy decisions and development.
Integrated Risk Management System Joint Trips & GCMS Risk Engine System
GCNet has piloted a risk management system to GRA that has received good reviews by the GRA risk team. The system takes a comprehensive view of risk across the entire value chain in the GRA operation from Customs risk through international imports and exports to domestic tax administration and collection.